Hand washing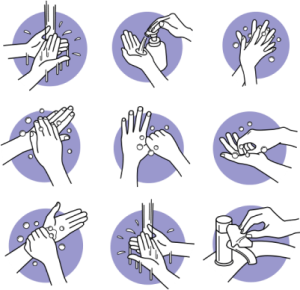 Turn on the faucet and wet your hands, without touching the sink.
Lather both palms and rub them together.
Rub the back of the hands and the spaces between the fingers.
Rub the back of the fingers of one hand with the palm of the other in a back-and-forth motion.
Rub each thumb with the palm of your hand.
Rub fingertips and fingernails against opposite palm.
Rub the wrists in a circular motion.
Rinse your hands.
Turn off the faucet, if possible without touching it (a paper can be used) and dry your hands.
Additional Precautions
To protect our patients who are particularly vulnerable to coronavirus disease, we are implementing precautions including:
Screening patients, visitors, and staff for possible virus infection.
Limit the number of companions including one adult (18 years or older) per patient at a time.
Suspend visits from industry representatives and/or suppliers.